Back to Events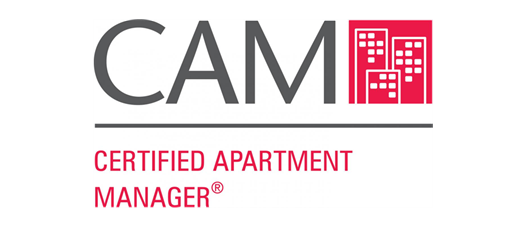 NAA's Certified Apartment Manager (CAM)
2021 NAAEI Designation Courses
Monday, April 5, 2021
at
2:00 PM (PDT)
to Friday, May 7, 2021 at 9:00 AM (PDT)
Zoom Meeting ID and Links TBD
Event Details
Certified Apartment Manager (CAM)
April 5- May 7 | $900| Book $370 |
Are you ready to enhance your skills and be the next leader? It is time to take that leap in the rental housing industry by becoming a Certified Apartment Manager (CAM). Earning your CAM allows you to demonstrate that you have the knowledge and ability to manage an apartment community and achieve owners' investment goals.
Requirements: To obtain the CAM credential, candidates must complete the following:
Minimum of 12 months of onsite property management experience;
Successful completion of all CAM coursework (totaling 40 hours); and
Meet all examination standards within 12 months of declaring candidacy.
Courses may be taken as stand-alone seminars or in FULL to earn the industry designation.
This four-day series includes:
Orientation: Monday, April 5, 2:00 PM–3:00 PM
Day 1: Monday, April 12, 2021
• Program Orientation 10:00 AM-3:30 PM
• Industry Essentials 10:30 AM-11:30 PM
• Marketing 1:00 PM-3:30 PM
Day 2: Wednesday, April 14, 2021
• Legal (CAS) 10:00 AM–11:30 AM
• Legal Part II (Leasing & Screening) 11:30 AM-12:30 PM
• Property Maintenance 1:00 PM-3:00 PM
Day 3: Monday, April 19, 2021
• Risk Management (CAS) 10:00 AM-12:00 PM
• Human Resources 1:00 PM-3:00 PM
Day 4: Wednesday, April 21, 2021
• Resident Experience (CAS) 10:00 AM-11:00 AM
• Financial Management (CAS) 1:00 PM-3:30 PM
• Close 3:30 PM-4:00 PM
Optional Review: Friday, May 7, 9:00 AM-10:00 AM