SBRPA Program Recordings
2021 Recordings & Presentations
03-16-2021 Tenant Screening Bootcamp
---
01-25-2021 California's Proposition 19
No video available for this event.
Click below to download a copy of the Powerpoint Presentation
by Attorney April Lavigne.
01-2021 Real Estate Market & Economic Forecast
An update on the local and national commercial real estate market and economy, with information/topics:
Meeting Video (tbd)
National Apartment Housing Outlook, Presentation by NAA's Paula Munger
Santa Barbara Real Estate Market & Economic Outlook, Presentation by Radius Group's Steve Golis
---
2020 Recordings & Presentations

2020 December Annual Meeting
The 2020 SBRPA Annual meeting was held via Zoom and featured:
• Looking Back: 2020 by SBRPA President Betty Jeppesen
• Looking Ahead: 2021 by Capitol Advocacy's Kate Bell
• Board Member & New Bylaws Vote by SBRPA Director Chuck Eckert
Click below for a video of the meeting and/or a copy of Kate's presentation.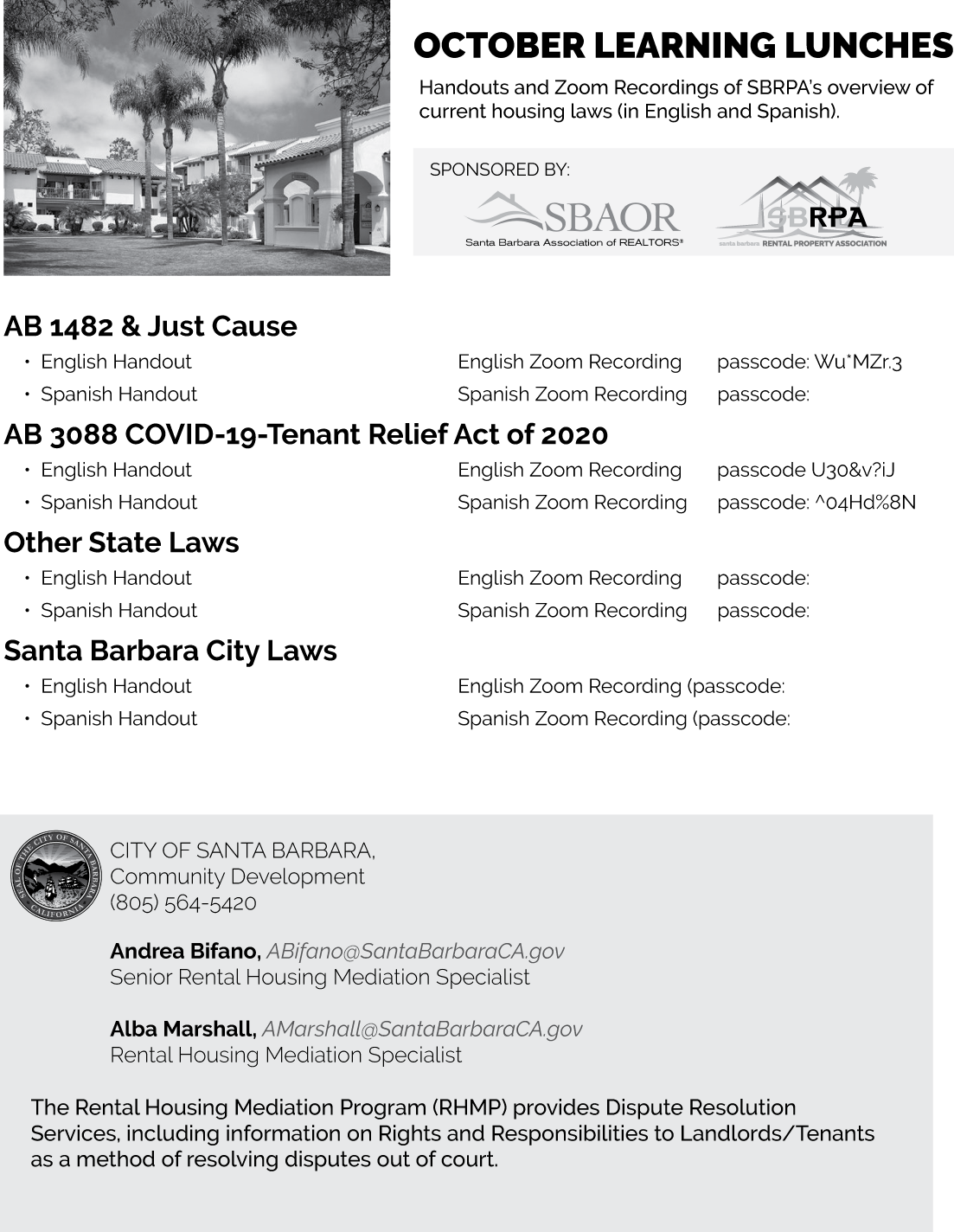 October 2020: Learning Lunches, a series of informal meetings on new California laws
Our October Learning Lunches, co-sponsored by SBAOR and SBRPA, featured half hour overviews of the latest housing laws. The sessions were given in both English (Betty Jeppesen) and Spanish (Michelle Roberson), and we are making the Zoom meeting recordings and handouts available to our members. Thank you to Krista Pleiser of SBAOR (Santa Barbara Association of Realtors), and Andrea Bifano and Alba Marshall of the City of Santa Barbara, Community Development Department for their help with this series.
Click below for copies of presentations or to view meeting videos.
AB 1482 & Just Cause AB 1482 & Just Cause

• English Handout (click here)
• English Zoom Recording (click here) passcode: Wu*MZr.3
• Spanish Handout (click here) (Presentation will download)
• Spanish Zoom Recording (click here) passcode: %5gJB5q*
AB 3088 COVID-19-Tenant Relief Act of 2020
• English Handout (click here)
• English Zoom Recording (click here) passcode U30&v?iJ
• Spanish Handout (click here) (Presentation will download)
• Spanish Zoom Recording (click here) passcode: ^04Hd%8N
Other State Laws
• English Handout (TBD)
• English Zoom Recording (click here) passcode: 8!xU#M59
• Spanish Handout (TBD)
• Spanish Zoom Recording (click here) passcode 09s68e?k
Santa Barbara City Laws
• English Handout (click here) (Rental Housing Mediation presentation will download)
• English Zoom Recording (click here) passcode: UBjn.7HW
• Spanish Handout (TBD)
• Spanish Zoom Recording (click here) passcode: P7E^2$MW