Back to Events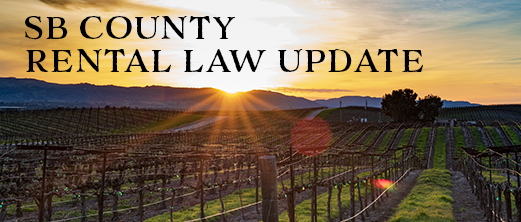 SB County Rental Law Update
Learn New Rental Property laws recently enacted by the SB County
Thursday, September 28, 2023
Event Details
Please join us to learn about New Rental Property laws recently enacted by the Santa Barbara County Board of Supervisors affecting rental properties in north Santa Barbara County.
WELCOME
Executive Director, Laura Bode
RENTAL LAW UPDATE
SBRPA President, Betty Jeppesen & Attorney Jim Cole
Briefing on recent changes to County rental laws enacted by the Board of Supervisors:
Complicated new just cause notice and filing requirements for renovation evictions
3 months Fair Market Rent payment to tenants terminated with "no-cause"
Q&A
Further questions? Attend the SBRPA Property Management Seminar on 10-19-2023.
STATE LOBBYING
SBRPA Director Steve Battaglia & Director Nick Gonzales
Current State legislative "hot items" & how you can lobby your State representative.
LOCAL LOBBYING
SBRPA Director Nick Gonzales & Vice President Harold Goodman
How to get involved in lobbying locally. Plus meet some of your local government leaders!
HAPPY HOUR
After the program you will probably be ready for a drink? So be our guests at Happy Hour! Relax and get to know your fellow property owners over wine & heavy appetizers.
Cost $30 Members $60 Nonmembers
Equal to what you'd pay for 5 minutes with an attorney – and much more pleasant as you get wine and food!
To ensure space available, RSVP by Monday 9/25/2023